Fellow Michelle
August 11, 2010
Honor, IDSA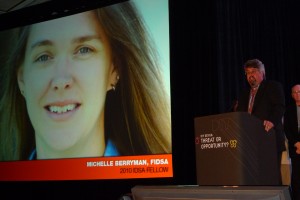 On August 5, Michelle Berryman was inducted as a Fellow in the Industrial Designers Society of America (IDSA). Fellowship in the Society is considered the highest honor granted to members of IDSA and may be conferred upon Members in good standing who have earned the special respect and affection of the membership through distinguished service to the Society and to the profession as a whole. Congratulations Michelle!
Michelle Berryman Elected to Icsid Executive Board
December 2, 2009
Honor, Icsid, International
The International Council of Societies of Industrial Design (Icsid) Executive Board of Directors for the 2009-2011 term was announced at the close of the Icsid General Assembly on 27 November 2009 in Singapore. The biennial election was the highlight of a week-long Icsid World Design Congress and General Assembly. 15 nominations from around the world were received for the nine board vacancies with EchoViz Principal, Michelle Berryman, among the nine elected!
Michelle was named Visiting Professor at Jiangnan University
November 17, 2008
Design, Honor, International
While in Wuxi, China for the 2008 Wuxi International Industrial Design Expo, Michelle Berryman was invited to visit Jiangnan University on November 10th to tour the facilities, interact with students in the design department and participate in a forum where her friend and fellow IDSA Board Member, Brian Roderman, delivered a presentation on divergent thinking in design. During the visit to Jiangnan University, Michelle was conferred the title of Visiting Professor through December 2011. In addition to this honor, Michelle was also named Honorary Chair of the Editorial Committee for Creation & Design Journal, a publication of the School of Design. This appointment also runs through December 2011. On November 11th, Michelle was invited to participate in the 50th Anniversary celebration of Jiangnan University by cutting the ribbon and officially dedicating the new Museum of Design on campus.
IDSA President
October 30, 2006
Honor, IDSA

Subscribe
---
Archives
---
Categories