Design Turkey 2010 – Responsible Design Conference
December 14, 2010
Conference, International, Speaker
As part of the Design Turkey 2010 event in Istanbul, Michelle Berryman spoke at a conference on Responsible Design. The conference goal was to discuss and celebrate the "benefits of design for society" and "the social responsibility of designers." Michelle's presentation, Five Tenets of Responsible Design in the Digital Domain, discussed the mandate designers have in the digital realm to embrace different perspectives, create opportunities for users, encourage engagement, protect user privacy and, above all else, enable delightful experiences.
Design Turkey 2010 – Industrial Design Awards
December 14, 2010
Awards, International, Jury
In December 2010, Michelle Berryman participated as a juror for the Design Turkey Industrial Design Awards in Istanbul, Turkey. The awards program is a design evaluation system organized with the collaboration of the Turkish Undersecretariate for Foreign Trade (DTM), the Turkish Exporters Assembly (TIM) and the Industrial Designers Society of Turkey (ETMK), within the framework of the TURQUALITY® program. The program emphasizes the benefits good design brings to both society and industry in Turkey by rewarding design excellence that respects user needs and provides value and competitive advantage in the marketplace.
Journeys of Inspiration
October 13, 2010
Article, Community
As part of their October 2010 Masters of Design issue, Fast Company Magazine asked Michelle Berryman to participate in a Canon-sponsored photo blog with three other designers to document the things in their worlds that inspire creativity and motivate them as designers. An avid photographer, Michelle's photos span four continents and include elements of raw nature as well as man-made artifacts and situations.
MOB Design Conference
October 13, 2010
Awards, Conference, Design, International
In August 2010, Michelle Berryman participated in the 2nd International Conference MOB Design — Mobilization Object Brazil — promoted by Objeto Brasil, with the support of APEX-Brazil, at the Teatro Frei Mug, in Sao Paulo. The conference addressed the design of a new point of view: the intangible, with presentations on trends, inspiration, transcendence, design by gender, sustainability and creative city programs. Michelle also participated in the idea/Brazil awards program during her visit.
TEDxCreativeCoast
August 11, 2010
Conference, Speaker
Michelle's TEDxCreativeCoast speech is now available on YouTube.
How do we encourage more females to become industrial designers?
August 11, 2010
Article, Design, Quote
Fellow Michelle
August 11, 2010
Honor, IDSA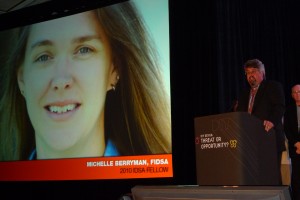 On August 5, Michelle Berryman was inducted as a Fellow in the Industrial Designers Society of America (IDSA). Fellowship in the Society is considered the highest honor granted to members of IDSA and may be conferred upon Members in good standing who have earned the special respect and affection of the membership through distinguished service to the Society and to the profession as a whole. Congratulations Michelle!
Shelton Joins EchoViz
May 27, 2010
Design, TEAM
EchoViz has added Shelton Davis to the team as an Experience Designer. His abilities include User Experience Design, Interactive Prototyping and Information Architecture. Please help us welcome Shelton!
Michelle Berryman to speak at the TEDxCreativeCoast
May 27, 2010
Design, Panelist
Michelle Berryman will speak at the TEDxCreativeCoast, to be held June 18, 2010 from 9:00am – 6:00pm at Meddin Studios in Savannah, Georgia. The theme this year is Designing Creativity.
TED (Technology, Entertainment, Design) is a nonprofit organization devoted to Ideas Worth Spreading. TEDx is a program of local, self-organized events that bring people together to share a TED-like experience. At a TEDx event, TEDTalks video and live speakers combine to spark deep discussion and connection in a small group. These local, self-organized events are branded TEDx, where x = independently organized TED event.
Michelle's presentation, "Where there's a will . . . !", will discuss the myriad of ways people and nature use design thinking and creativity to overcome obstacles and achieve meaningful results.
IDEA 2010
February 12, 2010
Awards, Design, IDSA, Panelist
On February 9, Fast Company magazine announced the jury selection for the 2010 International Design Excellence Awards (IDEA®). The internationally diverse jury of 10 men and 8 women, chaired by John Barratt, president and CEO of Teague, will include Michelle Berryman of EchoViz. Sponsored by the Industrial Designers Society of America (IDSA), the IDEA® program is the premier international competition honoring design excellence in products, ecodesign, interaction design, packaging, strategy, research and concepts. Michelle will be judging entries in the categories for environments and interactive product experiences. Judging will take place in April at the Henry Ford Museum in Dearborn, Michigan, with winners announced in the July/August issue of Fast Company magazine. Winners will be honored at this year's IDSA international conference, held from August 5 to 7 in Portland, Oregon.

Subscribe
---
Archives
---
Categories